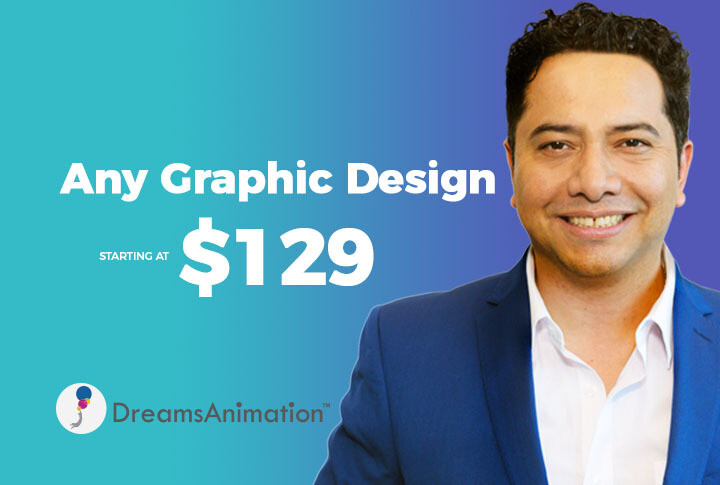 I will fulfill your graphic design needs within 48 hours
SKU 6X2ABVJR
Product Details
Hey there! Glad to have you here. Please read through this service before placing an order!
WHAT WILL YOU GET?
✔ CUSTOM made and high-quality designs.
✔ On-time delivery (Usually within 48 hours)*
✔ Attention to detail (That's why I'm the best).
✔ Over 9 years of industry experience.
✔ Always updated with latest trends.
✔ 3,500+ completed projects
✔ Professional customer service and communication at all times
✔ FREE UNLIMITED REVISIONS UNTIL YOU ARE HAPPY!
PRICES

Services we offer with the prices starting from:

$129 - Designs of Business Cards, Banner, Header, Slider Image Email Header, Facebook Ad, Social Media Cover, Facebook, Twitter, Youtube, LinkedIn banners and headers (1 design of anything).
$129 - PHOTO RETOUCH. Good for products, models, real estate. We can remove background, add backgrounds, change lighting, clean skin, add objects, photomontage, etc.
$249 - Digital FLYER/LEAFLET/MENU/PROMO (used for facebook, whatsapp, social sharing)
$249 - Double Sided FLYERS 4X6, 5X7, T-shirt design, Small stickers, Vectorize any image or logo.
$980 - POSTER / BILLBOARD / LARGE PRINT AD / (CUSTOM DESIGN ALL FOR PRINTING).
$980 - Infographic 1 page with 3 ideas.

$980 - 1 screen design for Website or Mobile App mockup (2 unique concepts)
$100 - Photoshop PSD or Illustrator Source File from your work.
-No logo design, animation, coding, illustration, printing is included under this service.


YOU NEED TO PROVIDE:
✔ A brief description
✔ Website address if any
✔ Logo files
✔ Size (width x height) or printing requirements/template
✔ Text/copy/content (this service doesn't offer copywriting services)
✔ Any images to use (we can sell you HD images from BigStock at $5 each)


For very custom made work feel free to message at orders@dreamsanimation.com , if you have any questions.
*Optional rush within 24 hours delivery is available.
COMPARE PACKAGES


Packages

$980


Premium




$249

Standard




$129

Basic





What is included




1 VIP Design for: Posters, Magazine Ad, Billboards,
Large printing.

or
1 Concept Infographic: Photo Retouch: Good for
products, models, real estate. We can remove
background, add backgrounds, change lighting, clean
skin, add objects, photomontage, etc

or
1 Design for Web Page or Mobile App: 1 VIP Mockup
design, using latest trends to increase conversion rate.
Design file. (jpg and png)







1 Design Concept for: Facebook Flyer Event,
1 Sided Flyer, Leaflet, Event Tickets.

or
1 Design for printing: Flyers 4x6 and 5x7(doubled sided),
Event tickets, T-shirts (1 side only), Small Stickers,
Magnets Design, Mugs.

or
Vectorization: can be 1 character, 1 logo, 1 image.
For Images with many characters or elements
please write us an email before placing your order.



Design file. (jpg and png)







1 Design Concept for: Business cards (doubled sided), Facebook Promotion,
Website Banner, Header, Slider Image,
Email Header, Facebook Ad, Social Media Cover,
Facebook, Twitter, Youtube, LinkedIn banners
and headers, Icon and text, different colors.

or



1 Photo Retouch: Good for Products, Models,
Real Estate. We can remove background,
add backgrounds, change lighting, clean skin,
add objects, photomontage, etc

or
1 Event Invitation: Bridal shower, Baby Shoer,
Wedding, Birthday.


Design file. (jpg and png)

HD Stock Photo

Included
Included
Included

Source File

(+$100)

(+$100)

(+$100)

Revisions

5
3
3

Delivery Time

5 days

2 days delivery
(+$100)


3 days
1 day delivery
(+$100)


2 days
Same day delivery
(+$100)



Save this product for later